Main Content Starts Here
Valeshia M.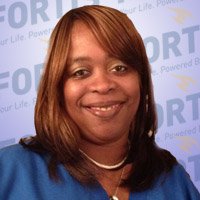 Valeshia M.
Associate Degree in Nursing
I decided to further my education because of the caring education at Fortis College in Centerville and. the caring attitude of the teachers and the academic staff. Their commitment to my education was priceless.
While attending nursing school I worked fulltime and was raising seven teenagers and a baby. I was in the first LPN graduating class in 2003. I graduated from the second ADN class in 2007. I enjoyed the family oriented environment. The teachers were committed to our education and helping us achieve our goals. It was my home away from home. They did not accept excuses, just results. That is why I returned for my ADN education.
The advice I would give to present students and potential students is hang in there. Don't give up. Success is never an easy task to obtain. Grab as much knowledge as you can from your teachers. They come with a wealth of knowledge that will lay the foundation for which you will be successful.
Hold onto your dream don't let go. The foundation that Fortis has laid for me has allowed me the knowledge and the clinical skills to be published in a book as one of the worldwide healthcare leaders of America. It has allowed me to practice as a Sexual Assault Nurse Examiner. It also has allowed me to have the knowledge and the clinical skills to be able to teach young nurses the art of nursing.
Additional Testimonials in Nursing