Main Content Starts Here
Ebony B.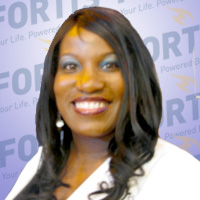 Ebony B.
Associate Degree in Nursing
As a graduate RN here at Fortis College I must say, my journey has been a long one. I've been an LPN for four years and walking through the door I thought I had all the answers, and the only person that was going to take care of me was me. I had this assumption that the next fifteen months of my life was going to be easy, I was absolutely wrong. First I learned to check my pride at the door. Humbling one's self opens one up to experienced master degree nurses who know what you need to be successful. The next thing I learned was to be prompt. Your patients are not going to wait on you while they are crashing and burning. Another thing I learned is the girl sitting next to you in class can end up being your best friend once you laugh, cry, and pray together. It was long haul and the journey was well worth it, and if I had to do it over again I would. Life as an ADN student threw me lemons and in the end I got sweet lemonade!
Additional Testimonials in Nursing