Main Content Starts Here
Telia C.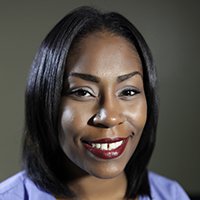 Telia C.
Medical Assisting
I started to attend Fortis College just mostly because I needed a way out. I started in night classes because I was with child and I was working in the daytime. Upon having my baby I had to sit out for quite some time and the instructors were awesome about it. I got my work done; I was able to keep up with the things I needed to keep up with until I was able to get back in class.
I knew I had to move forward because I had things to do, I had things to take care of and my mom along with my instructors helped me out with that.
I want everything for my child. I want her to have the best education, I want her to have anything that I can offer her as far as moving forward, all the toys that she would like now of course and just to be able to be successful in the long run.
Additional Testimonials in Nursing