Main Content Starts Here
Melody N.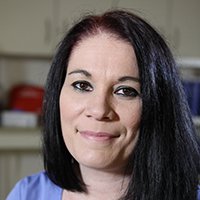 Melody N.
Pharmacy Technician
One of the reasons I went back to school was so I could be a good positive role model for my son and show him that if I can do it and get good grades at my age then of course he can get good grades at his age.
But I told him you are never too old for education, you are never too old to learn, and I think it sets a good example for him if he sees me doing my homework and stuff and I say, don't mess with me when I am doing my homework so he leaves me alone.
I teach my son to give. We went through a lot of things including being homeless for a while. We didn't look like it but we did and we triumphed through it.
I don't stress or worry so much anymore because everything is laid out like it is supposed to be.
Additional Testimonials in Nursing