Main Content Starts Here
Robert B.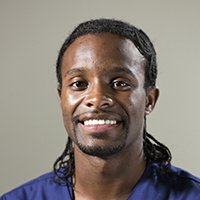 Robert B.
Medical Assisting
I got into the medical field because I like helping people, I like making people smile, making them feel better.
Right now I am a certified medical assistant. I love it. I interact with patients every day, give shots, draw blood, help the doctors out whatever they need and I'm on the side a football coach; I love it.
Fortis College has made a difference in my life and my career by giving me the opportunity to not working on my hands and knees and working until my back breaks every day. Now I can work one stable job, stable hours, off on weekends or pick my hours, and make a nice amount of money.
Additional Testimonials in Nursing