Main Content Starts Here
Valencia W.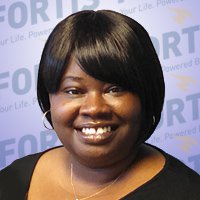 Valencia W.
Heating, Ventilation, Air Conditioning and Refrigeration Trades
After being in a homeless situation with two children, I got my own place again. I started thinking, "What's my next move?"  I knew I had to go back to school to further my education.

Then, in February 2014, my father, who is away, told me about HVAC/R and he said look it up and just think about it. Tell me what you think.  I looked at five schools; Fortis College had the best options for me. I started college a month later in March 2014. 

I was nervous at first because I did not have the slightest idea about what the teacher was talking about. I asked questions that no one in the class wanted to ask, but I wanted to know. I asked, "Could you show me?" The teachers would Google, draw pictures and take me to the lab to show me. 

During this time of furthering my education I was unemployed, looking for work, raising two children, all while learning a trade.  It took a while but I ended up with a job. I had two children who were looking at me, watching my steps, seeing how far I was going to go into this "school thing".  I was fortunate to have had a ride every day to and from school because I did not have my driver's license. I kept failing the test but knew I needed my license to be in this field.  In August 2014 I finally passed.  I received my license at the age of 31. 

My will and desire to learn this HVAC/R field was strong because I loved it, I knew where it was going to take me, and I knew how far I could go. The job I ended up getting was a security job from 7:00 a.m. to 3:00 p.m. every day, then to school from 5:30 p.m. to 10:30 p.m.  I didn't really see my kids until the weekend, but I always explained to them how far we could go.

It was tiring, it was frustrating, it was hard; but looking back 15 months later, the tears sweat and late nights were worth it. I'm glad I chose the HVAC/R field.  I had a job lined up working in my field, through someone I met at the school. I'm not sure how it would have turned out at any other school but I'm thankful for all the staff and students at Fortis College who continued to encourage me through. I'm thankful for my mother who watched my children every night.  I'm glad I chose Fortis College; it has truly changed my life!
 
Additional Testimonials in Skilled Trades