Main Content Starts Here
Steve S.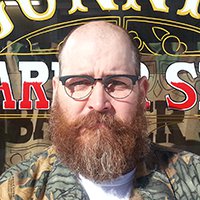 Steve S.
Needless to say, my "typical workday" now is very much different than when I was serving with the United States Marine Corps as a machine gunner in support of a Fleet Anti-Terrorism Security Team (FAST) unit during the Gulf War. Now a civilian, I recently opened my own barber shop on Main Street in Girard, PA and my days are consumed with making each customer look and feel GREAT!
I do like working for myself and doing something I enjoy doing. Running your own business is challenging but rewarding. I especially like establishing a relationship with everyone who enters my shop and delivering quality service to each and every customer. Oorah!
My wife owns her own hair salon and becoming a barber seemed like something I would also enjoy doing, including opening my own shop. I chose FORTIS-ERIE for many reasons to include the simple fact that it provided me the instruction I needed and the learning was delivered in a very "real world" manner. It allowed me to practice being a barber throughout the process of becoming a barber. Plus, the staff and faculty were very supportive throughout my learning experience.
FORTIS-ERIE provided me the kind of learning experience that allowed me to hit the ground running upon graduation. I was prepared to start my career and after finishing the Barber Operator Program at FORTIS-ERIE. I quickly attained my Barbering License. I then finalized the details that allowed me to open a barber shop that has a décor and a name reflective of my patriotism and background: GUNNY's.