Main Content Starts Here
Lucy M.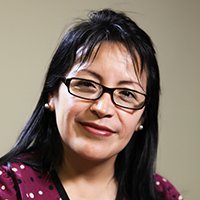 Lucy M.
Medical Assisting
My family is very happy.  They are very happy with what I have got so far.  Not only that I am the only one that is out of my country, living very far away but I got to come to a country which I needed to learn English and I think I have learned that and now I'm dealing with a lot of new terminologies.  
I am a Medical Assistant.  What I basically do -- I welcome the patients.  I do all the measurements, I take all the vitals like length, the weight, the temperature, the main reason why they are coming to see the doctor.  I room them after that and the doctor is ready to see the patient.   
If I can help more people, I'm happy with that.