Main Content Starts Here
Simon I.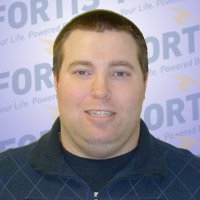 Simon I.
I almost went to another school but I found Fortis on Google and took a tour of Fortis College Centerville; that's when I discovered the Cyber Security and Forensics program was the one for me.
The staff was very knowledgeable and they help you with IT security issues. The staff mixed in real life examples so we could learn how things really work in IT security. If you are willing to put in hard work to get the IT certifications, they are willing to help you get the knowledge needed to pass the certification test.
I gained three certifications at Fortis and I am looking at going after more. The three certifications I have are the CompTIA A+, Network+, and Security+. These certifications helped me gain my present career position, and helped show the interviewer that I had the skills that she was looking for in an entry level IT professional.
I now work as an IT security Administrator. When I was first hired, I started out as a PC technician, and within 9 months of hard work I was able to be promoted into the IT security Department. The IT security skills that I learned at Fortis are coming right into play, and I enjoy what I get to do on a day- to-day basis.
I would recommend Fortis's Cyber Security and Forensics program to anyone going into the IT field.
Additional Testimonials in