Main Content Starts Here
Lauren W.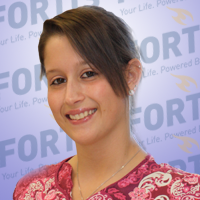 Lauren W.
I decided to go to college when I realized I had been working the same job for 4 years, and I was miserable and stuck. There were no raises, there were no promotions, and there was no future there. Besides, I was miserable and wanted a change for the better. I started researching schools in my area and looking at the different programs they had to offer. I didn't want to spend four years at a large university. I wanted something sort-term, quick, and easy. But, I still wanted a challenge.
I decided upon Fortis College after I came across the Dental Assisting program. It was by far one of the best decisions I have ever made for myself, and I loved every minute. It was challenging, but easy to keep up with the work. I met lots of new people, and made relationships that I never would have had if I didn't decide to go to school. I'm so glad I had the opportunity to go through this journey. I have to say I have never been more proud of myself. I graduated at the top of my program as Valedictorian, and I had perfect attendance. I am now working at a job that I love. I don't regret my decision at all!