Main Content Starts Here
Kiara L.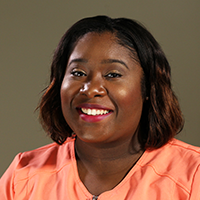 Kiara L.
I wanted to be a medical assistant because I wanted to get my feet wet as far as being in the medical field overall.  I had no experience and I knew that this would be the beginning.
I work at a pediatric clinic.  I, basically, I take the vitals, I provide breathing treatments to any patients that may need them, I schedule appointments.
My instructors at Fortis College some were very, very helpful; they were very driven and they were very inspiring and encouraging.
My education from Fortis has allowed me to be more knowledgeable about health and to pay attention to smaller things in life.
I would want people to know that I don't do what I do because of money; I do what I do because of my heart.