Main Content Starts Here
Amanda M.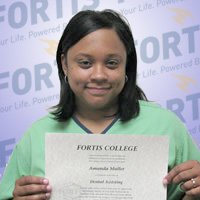 Amanda M.
I decided to do the DA program to better myself and my family and to have a career path for a better future because I knew there are always jobs in the dental field.
The challenge getting through the program included family commitments, kids' schedules and juggling everything while coming to school Mondays through Thursdays and then studying – it was demanding but I was determined as I set my goal to start with and I was going to achieve it!
I am very pleased with the education and knowledge I received in the Dental Assistant program at Fortis College. It helped me gain employment in the field I have wanted to work in since graduating high school. I want to thank Ms. Huntley for believing in me. I want to thank Ms. Jones for not giving up on me, telling me that anything is possible (and to keep going) and last but not least, I want to thank my friends Helena McKenzie, Tay O'Neal and Christine Foster – they called us the sorority sisters because we prayed together before all of our mid-terms and tests and we stuck by each other's sides to the very end. Now we are all proud Dental Assistants, graduated from FCC.