Main Content Starts Here
Landover Medical Assisting Classes
Medical Assisting Programs in Landover, Maryland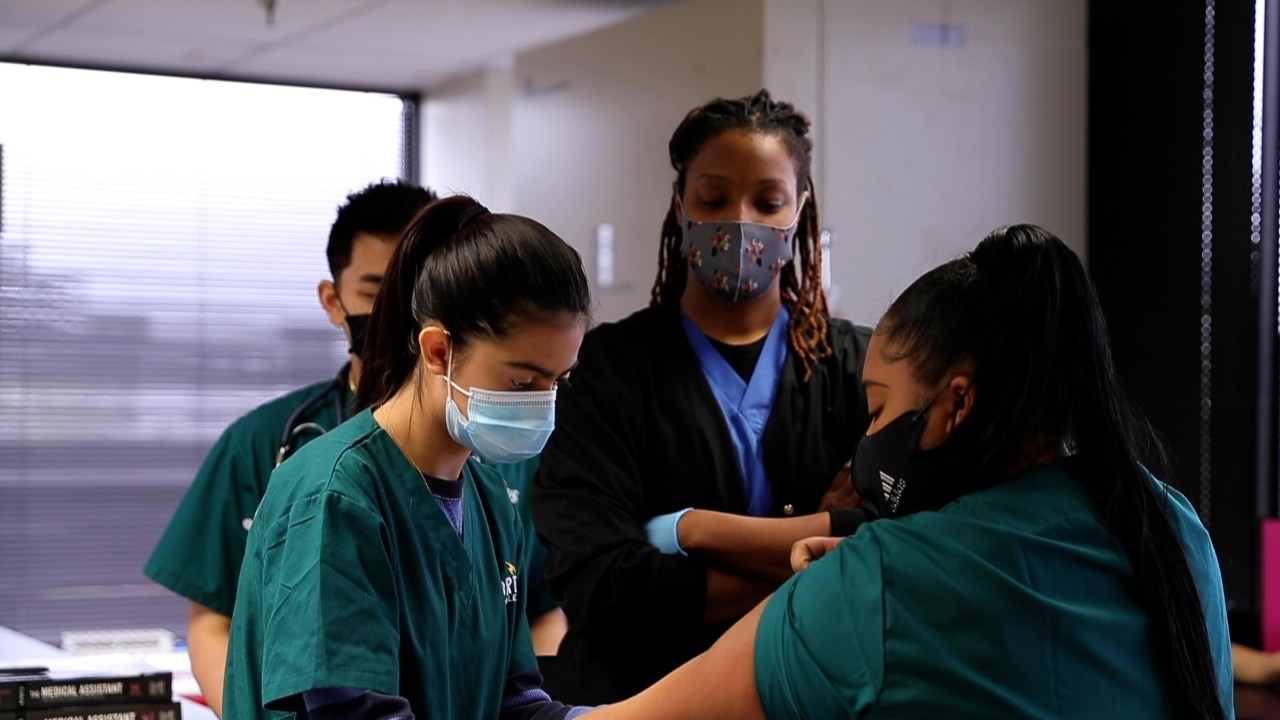 You can make a meaningful impact on your community when you join the healthcare sector as a medical assistant. This is one of the most versatile roles in medicine that directly contributes to the success of operations in hospitals, medical clinics, and other healthcare settings. You can start training to become an entry-level medical assistant at our Medical Assistant School in Maryland. 
Discover Medical Assistant Schools in Landover, MD
Healthcare is a high-growth field that is full of possibility. As a medical assistant, you can earn a stable income as you make an important contribution to your community's health.
At Fortis, our Maryland Medical Assistant School students learn essential skills that allow them to step into this challenging yet rewarding healthcare role. With hands-on training and instruction from our knowledgeable teachers and job search support from our career services team, you will learn about the various healthcare career pathways available to you.

At Fortis' Medical Assistant School in Maryland, you will learn how to:

Support operations in healthcare offices, handling important administrative and clinical responsibilities.
Provide direct patient care, creating a compassionate environment. 
Fulfill various roles based on the needs of the clinic, filling in gaps to support nurses and doctors.
As a medical assistant, you will have the opportunity to support patients and your health care colleagues, explore your favorite aspects of the medical field, and make a positive impact on the well-being of patients.

Thomas M.
Medical Assisting Program Graduate
"I was at a dead-end job, and this got me out to where now, I actually make a real difference in the world."
Enroll in Landover Medical Assisting Classes
Fortis and the suburb of Landover share one important thing in common: We both value community impact. Through our Landover, Maryland Medical Assisting Program, you can take on a more active role in your community by pursuing a career in healthcare.
At Fortis, you will learn from our experienced and knowledgeable faculty in both traditional classroom work and small group learning settings. Your training will prepare you to become an entry-level medical assistant in a local facility, such as Landover Ambulatory Surgi-Center or the University of Maryland Capital Region Medical Center. Other hiring opportunities may exist in healthcare centers in nearby communities of Silver Springs, Lanham, or Cheverly.

Depending on your schedule, here in Landover you might see a game at the FedExField football stadium or check out the Harlem Renaissance Festival that occurs here every May.

Hiring opportunities are possible for Landover, Maryland Medical Assistant School graduates at:
Public and private hospitals 
Private doctors' offices
Inpatient and outpatient centers
Nursing and residential facilities
Through Fortis' Landover, MD Medical Assistant School, you will gain the necessary skills to find entry-level employment in any type of environment, whether a hospital, medical office, or healthcare facility. Our program also provides career services to prepare you for a stable, long-term career aligned with your professional and personal goals.

Find Out How Medical Assisting Program Graduate Thomas M. is Making a Difference

Plan a visit to our Landover, MD Medical Assistant School
Landover is a suburb of Washington, DC, and our campus is a relatively short 11-mile commute from the nation's capital. Our Fortis campus is also convenient for students commuting from the nearby Maryland communities of Hyattsville, Capital Heights, College Park, and Upper Marlboro.
From Washington DC: Take US-50 E to MD-410 E in Greater Landover. Take exit 5 from US-50 E. Continue on MD-410 E to our campus on Garden City Dr.
From Upper Marlboro: Take MD-4 N to I-495 N/I-95 N to MD-950/Garden City Dr. Take exit 6 from US-50 W. Follow MD-950 /Garden City Dr. to our campus.

Programs vary by state and campus. Not all programs are offered at all locations. Contact local campus for accreditation information.
Frequently Asked Questions