Main Content Starts Here
LaDarius P.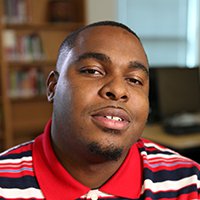 LaDarius P.
The most influential people in my life being an instructor here, my current fiancé right now and my grandmother and my two little sisters.
They are not yes people; they don't just tell me yes this is right, this is right, if I do something wrong they be on me. When it comes to encouraging me they push me and I appreciate it so much. Without those I don't know where I would be right now.
The HVAC field has changed my life tremendously. What I mean it was a life saver it was a life saver. I went from making minimum wage to making way over minimum wage times two.
I have been able to buy things that I never could buy - from staying in a shotgun house to always being to your own home, staying in a nice neighborhood it is perfect.