Main Content Starts Here
Erika G.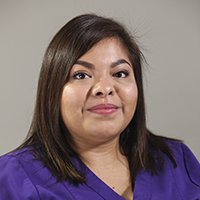 Erika G.
I wanted to change because I was tired of working and getting paid minimum wage, $7.25 -- never getting a raise and being a cashier for years.  So I decided that I wanted to get a career.
I'm currently working at an OBGYN.  I love it.  It's very interesting.  There are a lot of things you can learn.  
I chose Fortis because I had a cousin that was coming here and she motivated me to come here.  She told me about the instructors.
I want people to know that I've become more responsible.  I see life in a different way.  I like to help people.  I care about things as in a professional way and I just want people to see that I made it, so they can make it, too.