Main Content Starts Here
Clive C.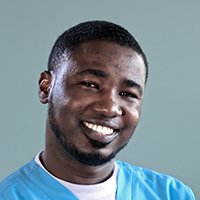 Clive C.
Originally I am from Guyana. I moved to the states about 7 years ago. I am a veteran - also recently, had new baby girl and just started working this year, so pretty good, I am a dental assistant.
So what really got me interested in working as a dental assistant is I did most of my supply for the dental office, so I was always in contact with the dentist. So I started talking to the dentist and he said hey if you are interested you know once your contract is up you can go to school and then you can become the dental assistant you wanted to be.
The reason why I decided to attend Fortis is coming out of the military to get a smooth transition I was looking for a school I could use my GI Bill®. So I was like, this school is going to be the perfect school for me to use my GI Bill® and then I came to Fortis.
"GI Bill® is a registered trademark of the U.S. Department of Veterans Affairs (VA). More information about education benefits offered by VA is available at the official U.S. government Web site at https://www.benefits.va.gov/gibill.