Main Content Starts Here
Alicia S.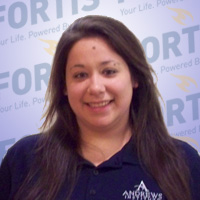 Alicia S.
FORTIS has by far made the biggest impact on my career today.  Prior to attending FORTIS I was much undecided where or how to obtain a career. Like most, I knew I wanted to go to college to be successful, but I didn't know where to begin and I was running out of time. My senior year of high school, a FORTIS representative introduced me to their facility and explained how FORTIS could help save me time and be beneficial in the long run. After a lot of thought, I decided that this had to be the resolution to all of my unanswered questions. 
Soon after Graduation I began my classes as a Medical Office Administration and 1 year later I was walking across the stage with my diploma in hand, holding the title of a Certified Medical Office Administrator.  The most rewarding part was having accomplished this on my own.  I met a lot of wonderful people who quickly became as close as family.  The teachers and staff have all been very helpful. The faculty and staff genuinely care about each and every one of the students. 
I never would have expected how helpful Career Services would have been even after graduation while searching for a job.  They truly want what is best for the students and know that you have the ability to obtain your dream career.  They have followed through with everything that they promised, even after graduation they continuously called to check on their graduates to make sure you are doing okay. Before attending FORTIS, it seemed as if I would never get to the point of being truly happy on the job.
Now, I am very happily to be employed as a Certified Medical Office Administrator, at the Andrews Orthopedic and Sports Medicine Center in Gulf Breeze, Florida.  I can't even begin to think where I would be right now if I had never given Fortis a chance. They have truly been a blessing to me and a major influence on where I am at today, in my career. I have nothing but positivity and praise to give to FORTIS Institute. I would recommend anyone giving it a chance, and I guarantee you will be just as satisfied, if not more, than I am today.