Main Content Starts Here
Carrie F. (3)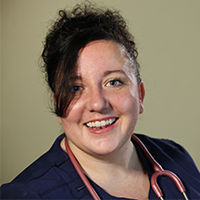 Carrie F. (3)
Practical Nursing
I didn't want the same thing every single day and with nursing there's so many different opportunities.  So right now I work in the emergency room and maybe in a few years I want to work in a nursing home and then after that maybe I want to work in Peds.  You just have all these different opportunities and it's never the same so I really enjoy that.
The most influential people in my life; one would be my mom because my mom is literally the strongest woman I've met in my life and she has endured so much. 
Another influential person is my instructor that when I was here.  We all called her Mama B, but Mrs. Bundy, she was always pushing me and when I felt like couldn't…I was ready to give up, I was ready to throw in the towel and…because school gets hard, it does…and she was right there pushing me.
My family and friends since I graduated they're so proud of me, and I'm proud of myself, too.  But it's so exciting to see your family be that proud of you.
Additional Testimonials in Nursing