Main Content Starts Here
Carrie F. (2)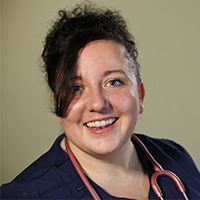 Carrie F. (2)
Practical Nursing
Before attending Fortis Institute I was working as an in-home heath aide for a small business company in Mayfield.
I wanted to get into nursing because I wanted to do something better for myself and I just loved helping people and it just seemed like the opportunity that I wanted. 
I love working in the emergency room.  It's something different every day and seeing your patients smile after you know that you made their day a little bit better and actually watching our whole entire team save lives it's an incredible experience.
I chose Fortis because it felt like home to me.  Ever since I walked through the doors they were great in human resources, great with financial aid; it was just the whole entity of the entire program and then once I walked through the doors of the nursing program it literally just felt like home and it's where I wanted to be.
Additional Testimonials in Nursing